Would you call me a stereotypical teacher if I encouraged you to keep your kids doing some kind of school all summer long? Well, maybe some of you parents would be sympathetic :)

I'm going to offer up 3 simple and inexpensive ways to engage your kids during the summer in 3 different subject areas! Whether you have small ones, teenagers, or in between there's something for everyone here.

1.

Khan Academy




Have you seen ads for this free website on TV? On it you will find slogans like "You can learn anything" or "Our mission is to provide a free, world-class education for anyone, anywhere". After using it for two months now, I believe it. I started using it to show my kids the excellent video series on the orchestra (it interviews the principal chair for most instruments) but soon branched out into Early Math with my almost 6 year old. It rewards you like a game where you get points and badges for doing tasks which keeps kids motivated. It allows for hints and videos on the concept if you get stuck. An older kid could use this independently with no problems.
Have a tween or teenager? They have Math for Kindergarten all the way through 4 or 5 types of Calculus as well as videos of science subjects like Biology, Chemistry, Physics, etc. They have Arts and Humanities, Economics and Finance and College Prep courses. Did I mention this is all FREE?! Forget paying a tutor this summer. Get on this website first and keep your kids curious.

Even if you don't have kids, this is a great way to brush up on your own skills in order to better help your children or learn something new. I never took past Algebra II in high school nor did I take Physics or Chemistry. In a few years I plan to tackle those subjects so I'm not left in the dark when my girls will need help. You work at your own pace, so it's doable for those who only have a chunks of time to work with during the week.
2. Mad Libs

I'm sure we all have some silly childhood experience that involves Mad Libs. Writing normal words in blanks that turn stories into crazy stories. Here recently I have been trying to teach my oldest to differentiate some basic parts of speech (nouns, verbs, adjectives, adverbs). We've watched a lot of Schoolhouse Rock videos on parts of speech and done a few sorting games -- very basic. This morning, she successfully did a worksheet that was a small version of Mad Libs (even if all her adjectives were colors!) and it occurred to me that the combination of the silly stories and getting my child to apply her knowledge of what IS an adjective/noun/verb/plural/singular is a perfect way to keep her brain thinking about grammar all summer long.

Mad Libs really are a great way for the whole family to contribute to a game, so you could do this on a road trip or just right quick before dinner or bedtime for some giggles and guffaws. If you have an

Ollie's

nearby they almost always have Mad Libs for 99 cents.


3.
Doodle Books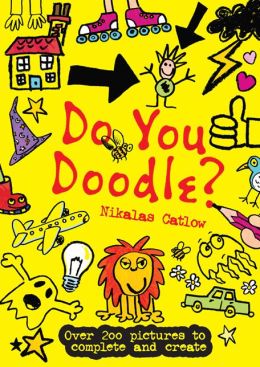 My (almost) 6 year old's doodle
Also a purchase at

Ollie's

for $3. With over 200 pictures, this is a thick book! It is a great way to keep the imaginative part of your child's brain stimulated as well as developing his/her fine motor skills. It's like a book of writing prompts for people who like to express themselves in drawings instead of words. We pull this book out at the table while waiting for a meal or if there is just some free time during the day. I could see this being a good book to take if your child has to sit quietly during a meeting or a doctor's waiting room. You might be surprised at what creativity springs forth from your child's mind!

Those are my 3 short suggestions, but I would love to hear your inexpensive ways to keep your child engaged during summer, so please share!