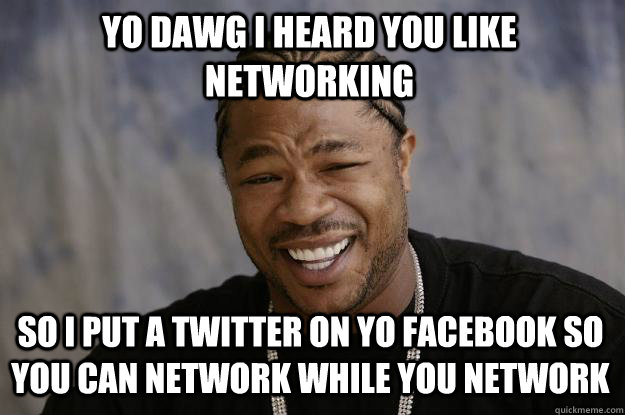 Well, I'm back into binging on books that help me understand how people learn and how they choose to navigate life. This time the theme is marketing to help get my head around what exactly I'm supposed to be doing with my new

part-time insurance career

.
What have I learned so far? Networking will get you very far and even farther if you paint yourself as an expert. Not a pretentious expert, but rather the go-to person about a particular field.
Everything I have been reading lately has helped me frame a concept I latched onto a few years ago after re-discovering Malcolm Gladwell-- transactive memory. In a nutshell, there's not enough time and not enough interest, and not enough brain space for everyone to be an expert on every subject. We all know this, so we seek out those who can give sound advice on the areas we don't understand or have little interest in going deeper with.
For example, think about artisan bread. Many of us like to buy it, but few of us have the time or the attention to detail to actually make it. We could learn about artisan bread making, but in the world of time vs. cost most of us are just not going to go to that much trouble even for a delicious loaf of bread. Therefore, many are perfectly happy to go to

Niedlov's

and for $6-$8 continue to let them be the expert in that area. In economic terms, expertise is a scare resource, so we are willing to pay more for the knowledge we don't have.
Some of you may say, well isn't that why we major in things when we go to college? Of course, but if you really want to be successful in your field you can't just have a degree, you have to invest MORE time and become an expert that people are going to go to meet their needs or desires. This is why we go to specialists instead of general practitioners for our serious medical needs. In my case, there are LOTS of insurance agents in the world, but I have to go beyond just knowing the facts. I have to demonstrate that I am an expert who cares and who wants to truly educate without reinforcing the pushy, egomaniacal, salesperson stereotype.
The particular book I have been reading the past few days, Gravitational Marketing, is directly related to increasing sales for small businesses. Their premise is that if you follow some basic guidelines of networking, you will have people coming to you for your business instead of you having to market and hound them to death to buy. Honestly, it's poorly edited (i.e. it could have been cut down to about 100 pages and have been just as helpful) and written by extroverts who are clearly better at communicating their ideas through speaking and interaction rather than conveying them in a stationery mode. Even as a extrovert myself, I'm a little turned off by the general vibe that I get, but I have to admit they make some good points.
People want experts because they aren't going to spend the time (for whatever reason -- not interested, not enough time, too specialized, etc.) to become an expert, so they will be loyal to someone who demonstrates a) exceptional proficiency in the area they have a need or desire and b) a genuine interest in them as a consumer and a person. When people perceive that kind of value from the expert, they tell WANT to tell other people. They want their friends to have the same comforting experience. This eliminates the expert having to beg and plead to get people in the door.
That's where networking comes in. The more people are aware that you, the expert, have a product they need the more you have a chance to help them in a way that is mutually beneficial.
Now despite what I've said about the book I've been reading, I don't think being an expert or even networking is strictly an extrovert's field. Perhaps in sales it helps to have a passion for people and hard work, but a company is more than its public face. I see some of you wiping your foreheads off now :) One of the best networkers I know is a man from my church who is most definitely an introvert. He is a behind the scenes worker and has served faithfully in a number of capacities for 25 years. Because of the nature of his job, he is connected to just about every business person in town. He is an expert in his occupation, his ethics are informed by his faith, he is very well-read because he has such a variety of interests, and he is exceptionally cultured yet very down to earth. If this man makes a recommendation, you'd be a fool not to listen.
The takeaway here is that new learning and education happen ALL the time within our everyday relationships. We can't just close up shop after we've walked across the stage for our degree and think we're done with what people have to teach us. Learning happens through building/maintaining relationships every single day if we take the time to ascribe them their true value.